June 14, 2018
Public Statement Regarding Drag Queen Kids' Party
We have received some feedback regarding the Drag Queen Kids' Party, a program that will be held at the Olean Public Library on Wednesday, June 20.
We believe everyone in our community shares an appreciation for openness, acceptance, and the opportunity to educate their children about people who are different from them. We also know that values differ, and are grateful to have received a variety of comments from multiple perspectives. Hearing both sides ensures we are reflective of all of our constituents.
As always, members of the community are encouraged to reach out directly to Library Director Michelle La Voie or Programs Director Jennifer Stickles to share those perspectives. Our direct line is 716-372-0200, or you may email Michelle at mlavoie@oleanlibrary.org or Jennifer at jstickles@oleanlibrary.org.
The Drag Queen Kids Party is not a new concept. Other public libraries around the country, including the New York Public Library and the Binghamton Public Library, have hosted programs like this with great popularity. We chose to host one as part of our continuing celebration of our community's diversity.
We understand that not everyone likes the programs that we host. That is one of the reasons we print brochures and advertise our programs—so that people can gather information and make the best decision for themselves and their families. This program is no different.
In our program, Flo Leeta will read a couple of positive, age-appropriate children's books, Jacob's New Dress and Morris Micklewhite and the Tangerine Dress (a finalist for several children's book awards), and sing age-appropriate songs. Children are encouraged to dress up however they are comfortable, as this will be an accepting and loving environment for all. Flo Leeta will dress more moderately than on stage—appropriate for the age group that will be attending.
For a downloadable copy of this statement click here.

2018 Summer Reading Program
The Summer Reading Program for children, teens, and adults begins on June 11th, 2018. Teens and adults may register and check-in at our Information Desk while children can register and check-in in the children's area of the library.
The Read-With-Me program is for children who cannot read fully on their own. If you read 15 books in one week you can have a FREE book to keep. Check-in 5 out of 9 weeks and you can enter a raffle for a grand prize.
Independent Readers are children who can read on their own. If you read 400 pages a week you get a FREE book. Check-in 5 out of 9 weeks and you can enter a raffle for a grand prize.
Teen Readers can check-in once a week at the Information Desk. If you read 400 pages a week, you get a FREE book. Check-in at least 5 out of 9 weeks and you can enter to win one of our themed prize packs.
Adult Readers can register at the Information Desk. Read on your own through the summer and turn in your reading log by August 10th to win a free Libraries Rock tote bag. One lucky participant will win a Kindle.
Our Services

Search system library catalogs

Digital Magazines
**Starting August 1, 2017**
Pardon the Interruption in eMagazine service We are reevaluating our digital periodicals to provide you with the best possible service in the future. Please subscribe to the Chautauqua Cattaraugus Library System Facebook page for updates or visit libraries.cc!
Print from your smartphone, laptop, or tablet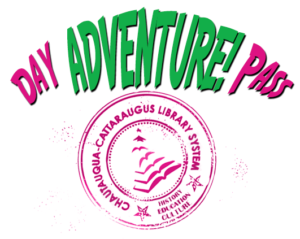 Looking for adventure?  Look no further than your local library!  Check out a Day Adventure Pass.
Then enjoy free or reduced price admission to one of our amazing cultural partners!
It's affordable. It's educational. It's fun for the whole family!